Omnichannel strategy boosts fashion company
Recognizing the evolution of customer preferences and the rising use of mobile platforms, the management team at a leading fashion player in the Asia-Pacific region sought support from Bain in developing its omnichannel strategy and mobile business model. With Bain's help, the company developed an integrated strategy that ensured it could meet and exceed the expectations of its customers, contributing to a five-fold increase in mobile revenue in less than one year.
At a Glance
10xIncrease in accumulated app downloads within one year
5xIncrease in mobile revenue within one year
The Full Story
The Situation
An effective omnichannel strategy presents retailers with a significant opportunity as they seek to engage with an ever-evolving customer base. The marriage of the digital world and the physical one are creating wholly new sources of value, a phenomenon we call DigicalSM, and FashionCo* recognized it needed the right strategy to succeed in this environment.
Prior to their engagement with Bain, FashionCo's success was due in large part to sales from their brick-and-mortar stores. The company maintained e-commerce channels, but sales accounted for just 10% of its total revenue and those channels only offered discounted, off-season products. Compounding matters, the company lacked an integrated omnichannel strategy which created a varied customer experience across channels, with disjointed back-end operations and pricing inconsistencies.
Omnichannel strategy boosts fashion company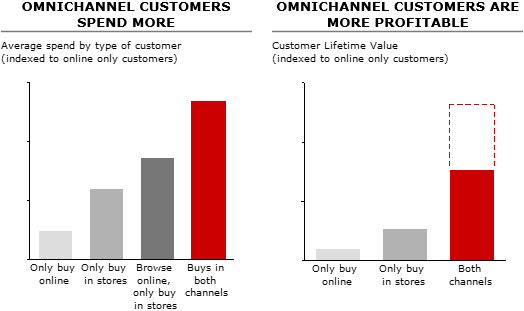 Our Approach
Bain worked with the FashionCo management team to tackle the key questions related to the company's omnichannel strategy and mobile opportunity, including:
How should the price and assortment of FashionCo's online channel compare to its offline channel?
What should FashionCo do to reach full potential in their omnichannel efforts?
The teams organized with two primary objectives in mind: to expand FashionCo's mobile channel and to develop stronger support for both online and offline sales. More specifically, Bain sought to help FashionCo develop a comprehensive mobile strategy and to create a seamless customer experience with an improved operating model that integrated its online, offline and mobile channels.
Our Recommendations
Bain and FashionCo collaborated to create FashionCo's holistic strategy for mobile and omnichannel, developing a number of key recommendations:
Defined where to play and how to win: In an effort to increase the loyalty of their customers, raise the number of omnichannel buyers and promote brand awareness and trials, the teams determined FashionCo's key points of differentiation on mobile based on their competitive advantages in store connectivity, content curation and product assortment.
Developed mobile channel: Designed to attract traffic and encourage purchasing, the mobile channel emphasized the right content and in-season products.
Price promotion: The teams addressed the potential conflicts in price promotion across offline, online and mobile channels by establishing benchmarks and clarifying decision roles
Customer service: By aligning incentives, processes and systems the teams created an environment where employees could focus on customer needs and resolved out-of-stock issues.
The Results
With Bain's help, FashionCo's investment in mobile generated bottom line results and also enabled the organization to succeed with an omnichannel channel approach that met the expectations of its customers. Within one year, mobile engagement, users and revenue increased at FashionCo and it stands ready to continue to capitalize with the appropriate systems and processes in place.
In one year, FashionCo's omnichannel efforts contributed to increased mobile engagement, users and revenue: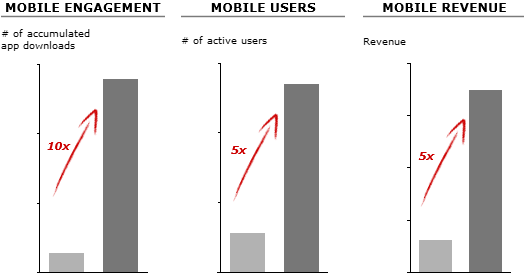 https://www.bain.com/client-results/omnichannel-strategy-boosts-fashion-company/